Advertising and sponsorship opportunities are available. Please contact us.
Email: kpma@kpma.org
Call: (859)219-3515
KPMA's e-marketer provides members with weekly updates pertaining to the petroleum industry. Information ranges from Industry Updates, Local Government Regulation Updates, Market Trends, Security Updates and Breaking News.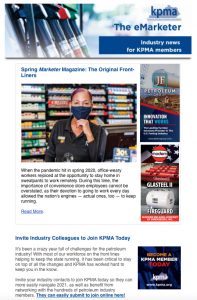 The e-marketer also provides members opportunities for sponsorship and advertisement placement.
If you are interested in receiving the e-marketer or advertising opportunities please contact us at kpma@kpma.org